Team Members at NorthStar Receive More Than Just a Job
An Engaging and Fun Environment
We cultivate a positive and enjoyable workplace with an on-site workout center and team-building activities, including annual company meetings and recognition awards.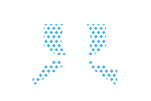 Stable and Competitive Compensation
You'll receive an attractive salary with performance bonsuses, and you'll maintain longterm competitiveness in an evolving healthcare landscape.
Competitive Benefits Package
Ongoing professional benefits include health, dental and vision insurance; short term disability; company paid long term disability; company paid life insurance and AD&D insurance of $100,000; and 401K plan with company match.
"The best part about working at NorthStar is the people. In my opinion, we have some of the most knowledgeable, innovative and hard-working professionals in healthcare. Across all departments, clinical and non-clinical, I have always been impressed with the talent within our organization. "

Landon Owens

Sr. Director of Talent Acquisition and Strategy

"If you are the type of person who gets up for a challenge, you'll probably find there is plenty here for you."

Craig York

Director of IT

"Working at NorthStar Anesthesia is a pleasure and a privilege. I am surrounded by a diverse group; all smart and friendly people. I knew I wanted to be a long-term employee pretty quickly after I started in August 2017. It's an environment that motivates us to do better each day. We're encouraged to challenge the norm, ourselves, and our teammates, while also having fun with one another. Our commitment to the core values of accountability, service excellence, respect, leadership, collaboration, and compassionate care results in happy employees and well-cared for patients. "

Bernie Marsiglia

Employee Relations Manager