Anesthesiologists at NorthStar Receive More Than a Just a Job
Professional Development
As a national group of leading anesthesia clinicians, you and your colleagues will share best practices and deepen your knowledge base.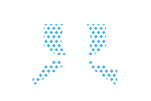 Stable and Competitive Compensation
You'll have a guaranteed salary with ongoing professional benefits, and you'll maintain long-term competitiveness.
A Rewarding Environment
Our metrics-based incentive program rewards you for high-quality care.
Leadership Roles
As part of physician-led teams that understand perioperative dynamics, you'll have the opportunity to set the standard for best practices in anesthesia.
Career Longevity
NorthStar's sustainable business model and broad network offers you job security and stability.
Better Work-Life Balance
Our care team models feature increased flexibility and reduced call frequency. Plus, our standardized procedures eliminate unnecessary paperwork.
"Northstar Anesthesia is a great place to work because it is physician lead and emphasizes patient care and provider quality-of-life. "

Greyson Chappelle, MD

Regional Medical Director
At NorthStar, You're the Star.
Our clinician-centric culture allows you to thrive in an evolving healthcare landscape while maintaining an optimal lifestyle. It also puts you in the best position to have a sustainable practice, competitive financial compensation and an optimal lifestyle.